Home > 50th Reunion
Please read the "Getting It Rolling!" letter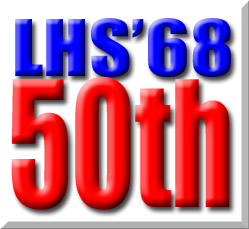 50th Reunion, June 22 - 24, 2018
[note: all dates and activities are tentative. Please let us know if you have any ideas, or want to coordinate any events.]
Day/Date
Activities
Friday, June 22

Santa Cruz Beach Boardwalk Hangout

Plans are to gather like we did in 2008, to hang out with each other and enjoy the free concert.
We'll meet sometime around 4:00PM at the group picnic deck area (if no one is occupying it, we'll sit there) on the beach side of the Coconut Grove end of the Boardwalk

We can see the bandstand from there. Classmates will be at that location to meet-up from roughly 4-8.

The first free band performance is @ 6:30PM
After enjoying the concert, we'll go find somewhere close to eat dinner around 8:00

in 2008 we went to the pier.

Saturday, June 23

Longstock Music Festival 12-10PM

This is a music festival event already scheduled, and independent of LHS68 activities. We have been offered access, and the chance for the Class of '68 Music All-Stars to play.
Trailer for 2017 Longstock: The admission charge is canned food which is donated to the Santa Cruz food bank. Bring your own food and drink, chairs. Or Barbecue available and food available onsite. Music 12:00PM to 10:00PM. Class of '68 All-stars performing

Sunday, June 24

Sunday Picnic at Portal Park 11:30AM-3:30PM

We need to have a good idea of how many are attending the picnic at Portal Park on Sun, June 23rd, 11:30-3:30. Anyone is welcome- your families or other Lynbrook alumni who want to see people. We'll have burgers, hotdogs, chicken, soft drinks, wine and beer. We need to know how many adults/children you have who are planning on attending, and your preference for food/drink so we can purchase the correct quantities. Somethting like:"This is Jane and Joe Smith, we'll be attending the picnic with 4 adults and 3 kids. 3 cheeseburgers/2 chicken/2 hotdogs. 2 drinking wine (white) and 2 drinking beer".We ask that you make a monetary contribution on-site appropriate for what you consume. Send an email with your plans to Geoff or Rob. There is also an event in the LHS68 Facebook page you can signup to.

50th Anniversary Big Dinner, Hilton Doubletree Pruneyard 5-10PM
Monday, June 25
Brunch before we head back home?